It's so important to find that neutral trait. It's not just for the sake of 'feeling good'. It's about accurately identifying what your nature and characteristics are, so you can set effective strategies that actually work for you.
The most effective career types assessment I've taken to date has been the Highlands Ability Battery. Unlike most of these tests, it is not based on self-report. Instead, you (the test-taker) are faced with about 22 or so tasks to be completed within a certain amount of time. Your performance and the times are used to identify your abilities and place them in relation to the population (of everyone else who has taken these tests). So, it's more objective than many tests. (Although no test is completely objective.). (Also, there are still a few parts that involve self-report.)
Here is my results summary from the Highlands Ability Battery: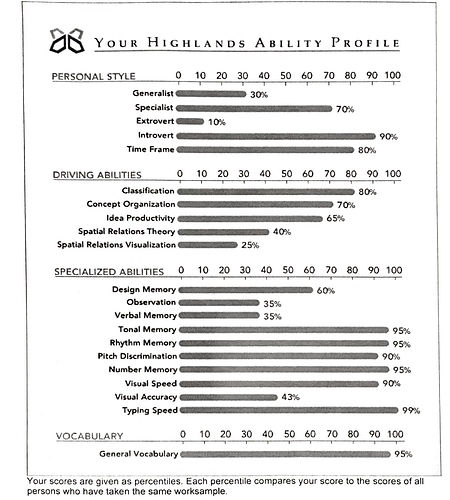 This is not a pass/fail type of situation. A low score on a given index may actually correspond to another strength.
But as I was walking last night, it hit me that what the Enneagram was calling Sloth, Inaction, and Procrastination was probably quite related to what the Highlands Ability Battery labeled as "Long Time-Frame Orientation".
Time Frame Orientation is said to "measure the span of time you tend to take into account when considering the future. It indicates how you naturally consider the impact of present actions on future plans".
At about 80th percentile, mine is considered to be a long Time Frame Orientation. It's said that when thinking about the future, I have a natural Time Frame of about five to ten years.
Here's the description: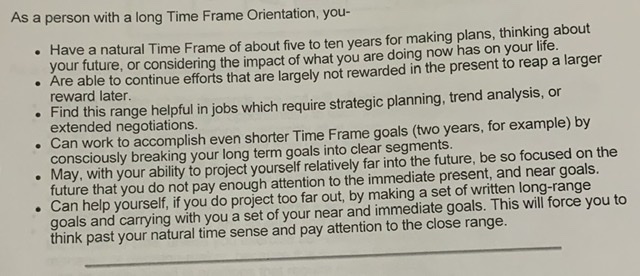 What the enneagram clarifies about my tendency to inaction is accurate. But what the Highlands Ability Battery points out is also accurate. And the latter is in a sense more neutral and useful. It gives me more options beyond simply: 'hey! don't do that.'
I reflected last night on the times in my life when I worked the hardest, with the most energy and focus. I observe that it has almost never been in the service of a short-term, situation-based goal. It's almost always in the service of a foundational, long-term investment. This goes for my work-style as well. My hardest work is usually ritual- and habit-based. I develop a workout, routine, or regimen based on principles I believe are fundamentally healthy and beneficial, then I lose myself in working on the routine. That's how I best take action.
I'm not very reactive in the short-term, and I don't tend to make very rapid judgments based on short-term situational changes.
From someone with a very short-term Time Frame orientation, this style would seem exactly like that of a tree sloth. Climbing up a tree in slow-motion.
I know from past experience, however, that by the time 3 years or so pass by, I'm usually at the same level with the people who started out with me. This means that I need to be more careful about what I choose to undertake. I need to really believe in it. Because in many cases, my natural approach means it's going to take a while for me to see the fruits.
My point is that if I simply said 'wow, I'm so slothful', and was content and satisfied to remain with that observation, I would be neglecting a lot of strategically and tactically important information.
If you're calling yourself 'lazy', in my mind, the actual 'laziness' in you is your lack of intellectual investigation to identify what motivates and what your naturally engaged state really is. I don't believe, in other words, in objective, disposition-based laziness. I believe that some people are not in the proper conditions for their motivational factors to be activated. If they are ignorant of what those conditions are, then they are less likely to seek them out.
On the other hand, anyone who is in close proximity to orin contact with the factors and conditions that motivate them, will automatically work with energy and focus.
This is why it's hard to find anyone who is so 'lazy' that they won't get out of a bed that's on fire.